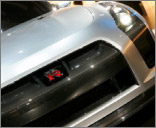 An aluminum core can be seen through the front grill. Can this be a core for an intercooler? Or a radiator? Or even an A/C condenser? We hope that it's a huge intercooler lies under there.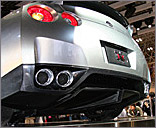 On a BNR34, the rear carbon fiber diffuser becomes 1 piece with the rear under panel for a full flat system. If they use this idea again for the next GT-R, it will be very interesting.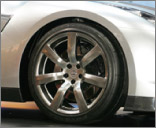 Tire: Front 255/40-20, Rear 285/35-20, Potenza RE070. The early models (R32, R33, R34), with the Attesa 4WD system have the same size tires all around. Can this be a hint of the new drive train configuration?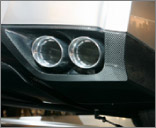 4 huge muffler tips can be seen from the rear. The new trend these days is to have a muffler tip extend out of the rear bumper instead of from under. Looking at the design, it seems easy to exchange the exhaust system. The new GT-R will sport a wide diameter piping throughout its system.