Ohlins originates from Sweden, starting off as a shock manufacturer for 2 wheel applications. Carrozzeria Japan supports Ohlins in Japan for the research and marketing of their products.
Ohlins's newest suspension is the DFV model which features the dual flow valve system (hence the DFV) that controls the attenuation of the moment at the beginning of the shock stroke.
"On the compression side of the shock, there is a sub-valve named the PCV in parallel to the main valve. In our new product, we incorporated this PCV valve in the extension side as well, for a dual flow valve design" claims Mr. Funabashi of Carrozzeria.
If the PCV was simply incorporated on both the compression and extension cycle sides of the shock absorber, then this simple theory would have been possible 6 years ago when the PCV was first used. But theoretically, with two sub-valves installed in a system, the stroke becomes reduced, hindering the overall efficiency of the shock. This is why it took so long to engineer a super compact design of a unit that has the sub-valve on both sides of the shock.
According to Mr. Funabashi, "the shock was ultra smooth against the pavement once the sub-valve was installed." They claim that the success of the new design was proven when the vehicle was tested on a bump.
The sub-valve also releases the oil pressure before the piston in the main valve so the shock is easier to begin its movements.
With the sub-valve on the compression cycle side, the instant wheel goes over the bump the sub-valve starts to work to absorb the impact resulting in a comfortable ride. However, once the vehicle starts to come off the bump to a flat surface and the sub-valve is not present, it relies on the main valve only. The result of this is that the impact of the wheel rolling off the bump increases. In other words, bad ride quality. This is why it is important to have the sub-valves on both sides of the cycles. Less impact means a comfortable ride.
Let's see if our test driver Ikeda will give us some useful feedback.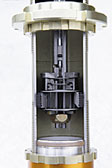 Shown is the DFV piston. The unit has a sub-valve installed on both the compression and extension cycles. The compact design still enables full measurement of the stroke of the shock.