The reason why Tomei had created an non-equal length manifold lies in the mechanical difference between a naturally aspirated and turbo engines. Basically on a naturally aspirated (NA) engine, the exhaust gases are spent into the catalyst, then to the muffler. On a turbo engine, the exhaust gases are spent straight into the turbo to the downpipe, then catalyst to the muffler.
On the turbo powered engines, the efficiency of the engine solely depends on the metal snail that resides right after the exhaust manifold. Rather than to stress on how to smoothly direct the flow of the exhaust gases to the turbine, it should be thought of how to get the gases to reach the turbine as soon as possible. But the overall question lies not in the design of the manifold, but eventually how quickly the turbine can begin spooling.
Incidentally, a response of the long, equal length manifold depends all on the design and how much resistance the tubes provide for the gases to finally get the turbo spooling.
The reason why Tomei had decided to go with the non-equal length manifold is that they wanted to get the gases to reach the turbo without losing any momentum of the flow.? According to the graph produced after a flow bench test of the equal length, non-equal length, and the stock manifold; the non-equal length manifold shared the closest curve characteristics to that as of a stock manifold.
On the Tomei unit, 42.7mm fat pipes were used on the manifold to further prevent gas build up and to provide plenty of room for the exhaust to pass.
The engine used on the flow bench testing was a modified 2.2 liter SR20 mated with a ARMS B7652 turbine. The stock exhaust manifold was used as the base data and what the ideal curve should be similar to.
Referring to the graph, the equal length manifold has the highest power and torque at 6000 rpms. Also, the power curve does not surpass the stock manifold until 5000 rpms, and the torque numbers are extremely low. For daily driving around 3000 rpms, the non-equal length and the stock exhaust manifold were chosen over the equal length.
However, if the objective is to use the vehicle strictly as a race car that needs the top end horsepower, the equal length manifold should be the ideal component. But for daily driving or drifting; any driving that requires frequent use of the gas and brake pedal, this manifold is not the choice. The Tomei manifold is the ideal choice for daily driving to make full use of the low to mid range power.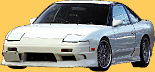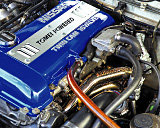 Under the hood, the exhaust manifold looks as so. The 1st and 2nd piping are longer and it looks as though they overlap. When the manifold begins to break in with exposure to heat, it turns into a nice brown haze.