Sets the potential of the machine free!

Auto Exe's concept of tuning is to "bring the machine closer to a pure sports car". Although the RX-8 already is presented on the market with a high potential, Auto Exe attempts to take it even further than that level.
The intake/exhaust, suspension, brakes, chassis reinforcement components were installed in this machine. The vehicle was targeted to be used on the streets with its bolt on components, and these parts can be installed anywhere with ease. In other words, anyone can build an RX-8 that can perform the way Auto Exe's does.
On this SE-02S, an air ram intake and a titanium plus muffler were installed. The naturally aspirated engine smoothly picks up power to the high RPM range.
Other components were installed include a newly developed suspension kit, big brakes, strut bars, and a sports clutch. The best feature among these parts is the adjustable sports suspension system. How will the painstakingly developed suspension perform on a race track? The tires used were still the ones used on the streets.

"Takeyari" Yamaji's Impression
"With higher capacity tires, my impression should greatly change!"

Auto Exe focused on developing carbon fiber parts for the SE-02S for a sporty look. It brings out the sharpness of the RX-8. The settings are easy to adjust thus making driving the windy roads a blast.
Regarding its performance on a race track, I would prefer the vehicle to have more stability in the rear. This is one of the problems with the RX-8, when the suspension is modified, the rear capacity becomes more higher than the front. Trying to balance the front and rear is a tough task. The suspension can be modified to withstand full braking at high speed as well. But over doing that will result in decreased turning capabilities of the RX-8. When oversteering at a tight turn, its usually easy to change its vehicle position, but in this case at a race track, the vehicle position changes too much.
At the circuit, this vehicle holds the upper hand at the windy section. That is what Auto Exe was aiming for. It was unfortunate that the tires that were used today were not very high grip and not brand new as well. By changing the tires, the lap time could have been closer to a little above the 1 minute mark.
Lastly, this naturally aspirated engine gives great feel at the mid RPM range.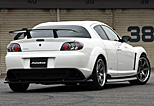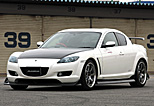 The carbon fiber components; front lip, side skirts, rear fender, and the rear wing are all coated with a special gel so it requires no painting. The rear wing is fully adjustable for the needed downforce.