10 Years and 5 Skylines Later, that Experience is Displayed into this Vehicle


Haruki Iizuka has been around the drifting scene and can be seen time to time in Drift Tengoku with his slammed Skyline. He is an expert in drifting who has enrolled in the D1 Grand Prix a few years back. After taking a break from the drifting scene for a few years, he had built his best HCR32.
Iizuka, being very enthused about his new creation explained to us how quickly this machine reacts to his instructions.
Speed and angle was a given factor when building this machine but Iizuka wanted more than that. His objective was to build a setup that took the absolute minimal time to reach its prospected drift angle. In other words, he wanted a car to put on a drift angle very quickly. There, he thought of the lightweight SR engine combined with a rigid body.
After completion of the vehicle last year, it was taken to Nikko Circuit for a shakedown run. Iizuka stated "I was shocked to learn that the vehicle control was really far off what I intended it to be. I was also beginning to question my drifting skills." The vehicle was too fast for him to keep up with, especially with the NOS setup. Mr. Inose, from the shop Friends, recommended "rather than putting on a large turbo, install a nitrous system to spin the engine for low end power. That way, the car will be quick when switching back angles." After following the recommendation and installing the nitrous, the power from 2800 rpm were born. Tremendous speed after the first corner and the following switchbacks were achieved.
The body was stitched welded and fitted with a 33 point roll cage along with a rather supple suspension setup. Before, Iizuka used to ride on shortened third links in order to test out a prototype suspension coilovers. But after raising the car and doing a proper alignment, he realized how great the Skyline handles.
Iizuka is determined to compete this year with his perfected Skyline. Another potential warrior has risen from the dead to rise above the sport of drifting.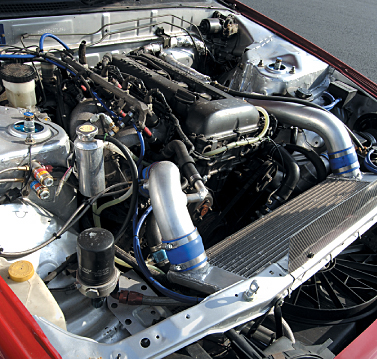 ENGINE SPEC
AX53B70 Turbine, HKS Exhaust Manifold, Apex 1.2mm Head Gasket, HKS550, Injectors, Nismo Fuel Pump, Z32 Air Flow Meter, Trust Intercooler / Injectors / Oil Cooler / NOS Tuned ECU (Tuned By Friends), Profec B (1.2 bar)