The D1 Grand Prix has me really busy!

My main profession consists of developing aero parts for sportscars, wagons, and sedans at a place called M Sports aka Mac. After graduating from high school, I've worked at gas stations and body shops but an opportunity was presented upon me to work at Mac so I decided to take it and do my best.
There isn't a specific duty that I perform here, I basically do anything and everything. However since my other job as a D1 driver takes up most of my time, it's pretty difficult to concentrate work at this company. Since time is what I don't have these days, I don't get to go drive in the mountains as much as I used to. But some of the perks of this profession is that I get to drive all kinds of cars and that is the most fun aspect that satisfies my driving needs.



I'm almost addicted to this!

Lately, since June of last year, I have been addicted to radio controlled cars. R/C cars are currently a fad amongst most D1 drivers and I decided to give into in this alluring hobby. Kumakubo had introduced me to this; at first I thought that I would never get into this kind of thing but right now I'm really addicted!
There are a lot of R/C control cars but the type that I'm really into is radio controlled car drifting. This hobby is not as simple as it seems, there are precise and specifics involved in mastering this thing. Some of the things that I have learned from this can be directly applied to real drifting, so it's not a complete waste of time but a beneficial hobby.
During real drifting, there are times where I thought I achieved a perfect score on my run but according to my spotter, it wasn't a sufficient run. It's very hard to judge your performance when you are the driver of the vehicle. With R/C drifting, you are like a spotter, witnessing your run from the outside. It's a great form of image training.
There is another reason why I'm spending a lot of time with this R/C thing. Two weeks into starting this hobby, my friends had tricked me into entering the Yokomo R/C drift competition. Being a good sport, I decided to give it a try. The result was an embarrassing moment where I was unable to even drift a single lap successfully. Due to this frustrating experience, I started practicing hard after that day. I even practice everyday by myself when I have the time.



16 years of drifting experience,
I can drive almost anything!

My entrance to the world of drifting came when I was still in high school. My older classmate had a hachiroku, and he agreed to take me for a ride. Approaching an intersection, he easily executed a simple drift. I was blown away at that moment to learn that a car is capable of moving this way. Since I didn't know anything about cars at the time, I was easily amused. I definitely wanted to try whatever he did after that experience. After obtaining my drivers license I purchased a hachiroku! Since I knew that I needed to get used to speed before even trying to drift, I drove the car grip style for a month. Day after day I went up to the mountains and even racked up my gas bill to 400,000 yen! ($4,000) I worked hard after that to recover the money..
I practiced my heart out but one day I ended up crashing really bad. The shock was so traumatic that I almost gave up drifting at that point. I decided to purchase a vehicle that cannot drift as my next ride. I bought a naturally aspirated automatic transmission 71 Mark II which didn't even have a limited slip. I believed that drifting in this car is impossible however one faithful day I proved myself wrong.
I learned that even with automatic transmission equipped N/A car without an LSD, drifting is possible. Since my old hachiroku never had an LSD, I didn't know what a vehicle felt like that had one equipped within. At that point I realized that even though I tried very hard not to drift anymore, I did drift, therefore deep down inside I love to drift.
Basically, I'm the type of person that adapts to any given situation so it did not matter if the car had no LSD nor it was an N/A. I must have been going to the mountains with the subconscious desire to drift. Back then I remember that there was no one that drifted an automatic so a lot of people looked at me funny too.
A few years later, I purchased a drift car, which was a JZX81 Chaser which came equipped with a twin turbo setup and a manual transmission. This was the very first car that I have ever owned that had a limited slip differential. I started entering competitions and drifting my heart out and pretty soon, the exterior was in ruins from all the battle scars. It was a vehicle that was never able to pass government vehicle inspections, but it was a car that I adored. The people back then knew me back then as Tanaka, that guy with the broken down Chaser!



I like to spend my days off relaxing

Aside from the R/C addiction, I also like top go fishing. I have been fishing ever since childhood, and black bass is my specialty. The most interesting aspect of bass fishing is that the lure is made to float atop the surface of the water trying to lure the fish. Although when you think about it, there is no excitement when you can see the fish biting your bait.
Some days, I enjoy going to the local parks with my Chihuahua named Malon. Whenever I come home, it acts like it missed me so much! This is the great feeling of owning a pet.



Emotion and team work is the most important

One time when I had lost a battle in D1, I remember crying my eyes out in the pit area. There, a little boy which claimed to be my biggest fan, came up to me for an autograph. Right then, I realized that I shouldn't be crying at such a trivial incident. He had enlightened me.
The world of D1 is very strict and competitive, and what makes it enjoyable is the heightened emotions involved in this game. I would like to strive to achieve the best twin drift exhibition with my team mate Kumakubo for this season.
I would also like to put on some drifting as Team Orange as a whole and pull off something spectacular.
As Kazuhiro Tanaka, and a proud member of Team Orange, I will strive to do my best!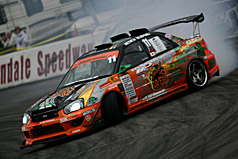 Kazuhiro Tanaka has been involved in the D1 series since the beginning; round 1 of 2001. The twin drifting that he displays along with his team mate Kumakubo, is in perfect sync right down to the heartbeat. In 2005, Tanaka had switched from his S15 Silvia to the controversial Impreza GDB, which had no affect on his spectacular driving technique.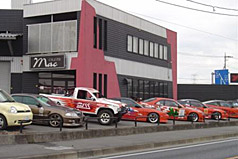 Tanaka has been working at Mac in the Ibaraki prefecture, an aero parts maker for 5 years. The popular M Sports line of body kit is widely known by many people in the industry. They provide many applications for wagons and sedans.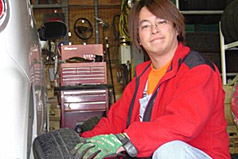 Usually, his daily grind is a staff member at Mac. But lately, being involved in the D1 series has taken up a lot of his time. His previous experience of working at a body shop in the past makes him a great candidate for his current job at Mac.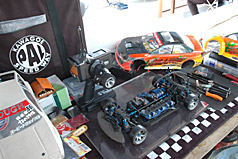 It has been a mere 6 months since Tanaka had started drifting his R/C car but his mechanical knowledge and tuning is currently second to none. His home R/C course is a place called Speed Way Pal located in the Saitama Prefecture.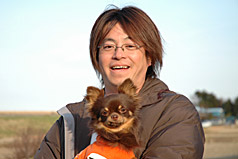 Tanaka also has a 1 year old Chihuahua named Malon. With a name like Malon, you'd think it's a female but it's really a male pup. It gives him happiness whenever he comes home and when he gets to take Malon to parks.