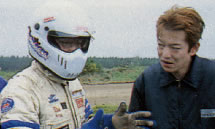 Now we are on the third part of Dais stories of top speed. The top speed stage moved from the Yatabe course to Bonneville, after the untimely death of Masa Saito. There was no places left to run, since we were banned from Yatabe and Bonneville required strict safety precautions.
A lot of people suggested to me after Masa's tragic death that I stop my pursuit for top speed. However, I felt that if I quit, Masa would say, "That's not fair Dai, I'm up here alone in heaven." And I myself don't want to quit racing yet.
Achieving top speed is definitely my life's work.
At this point, Japan had no where left to race the cars, so the only choice was to go somewhere overseas.
In August of 1999, I headed to the German Autobahn because the speed limit was not enforced there. I prepared Blitz's Skyline R34GT-R (Option&BlitzR348) for my first run there. But there was only one section where I could reach 300km/h and it was at 4am when no cars were present.
I put my whole life on this opportunity. Once the 700 horse powered GT-R was about to exceed 330km/h, a car running next to me came over to my lane. At that moment, I knew that if I let off the gas, I would lose this one shot. I've already started and was determined to finish it. I steered the car carefully inward to avoid the car, destroying the power steering belt. I held on to the steering wheel firmly until I hit 343 km/h. (1999 October Edition). In addition, Top Secret's Smoky Nagata piloted the 350GT at the same location in August of this year, but finished at 341km/h.
When I checked for the next world speed challenge, I found that New Zealand had a place to perform top speed runs. That place was a remote location next to a ranch. I asked around to hear more about this, was informed that Japan's JAF club was about to hold a speed trial, in which the FIA application, location security, and speed measurement were all going to be taken care of.
I knew that since it was a closed course, it would be pretty safe. So I invited many shops to come with me and we prepared rides such as VeilSide's R34 GT-R, Scoot FD3S, Garage Fukui aka Phoniex's Power Lancer Evolution, Top Secret's A80 Supra, Ricoh Racing Aristo, HRF Roadster and also Jun Auto's Impreza, ridden by Mr. Koyama.
December 2000. This place was outrageous. There was a 6 kilometer of straight road, where the average speed measuring section was a 1 kilometer stretch. But the problem was 2 lane bumpy narrow roads that was elevated in some sections causing erratic steering of the cars. To make things worse, there was light rain.
Despite these obstacles, there were a few 300 km/h runs like the Veilside GTR averaging 341km/h with 1300 horsepower. Its top speed was 346km/h and it was a life-or-death situation for me. I wonder if exceeding 350 km/h on a public road is even possible… (Feburary 2000 edition)
In the next segment, I will challenge that idea.